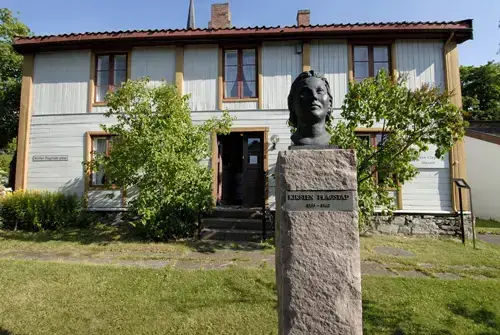 In 1895 Kirsten Flagstad was born in Strandstuen, Hamar. She grew up in a very musical family, and her talent was evident from an early age. In 1935, she made her debut at the Metropolitan Opera House in New York City as Sieglinde in Wagner's opera Die Walküre. By the middle of the day, Kirsten Flagstad had become famous. A star was born!

As an international opera star, Kirsten Flagstad spent much of her life on the move, with hotel rooms as her home. This nomadic life-style only served to increase her need to have tangible roots somewhere, and that somewhere was the town where she was born, Hamar.
And this was why it was here in Hamar that the Kirsten Flagstad Museum was established, in the same house where she was born on July 12th, 1895, just beside the church in which she was baptised. The museum opened for the public in 1985. The official opening ceremony was carried out by the Minister of Culture in the 90th anniversary of her birthday.
Kirsten Flagstad's family, her many close friends and especially the Flagstad Association have all generously contributed with presents and donations to create a museum rich in artefacts, photos and documents.