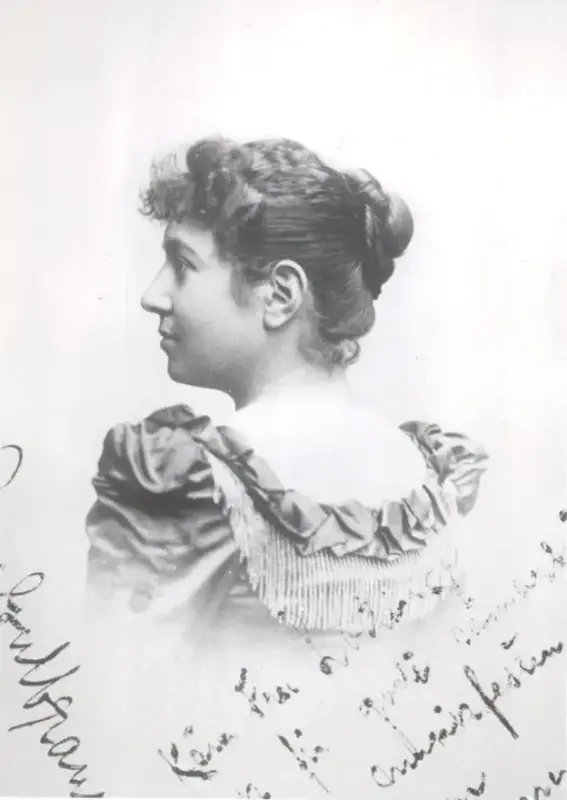 Ellen Gulbranson was one of her generation's leading sopranos. She was one of Edvard Grieg's favorite performers, and she is remembered  as Brünnhilde at the Wagner festival games in Bayreuth 1896-1914.

Ellen Nordgren grew up in a solid bourgeois home in Stockholm. Already in the early years she sang from morning to evening and performed revues with the other children.

In 1886 Ellen Nordgren held her debut concert at the Swedish Academy of Sciences' concert hall in Stockholm. Svensk Musiktidning wrote about a "talented singer who is quite a great voice of pleasant tone".
In 1890 she married the Norwegian officer Hans Gulbranson. He was interested in music and became an important support for her. They lived on the farm Haug in Bærum 1893-1908, then in the villa Granstua near Lysaker. They had three daughters.
In the spring of 1891 Johan Svendsen finally realized his plan to first performe Wagner's Valkyrien in Denmark. Svendsen, like the Grieg couple, had heard Ellen Gulbranson during her Denmark visit in 1888, and brought her along as the first Brünnhilde in the Nordic countries. Svendsen wrote to Cosima Wagner about the Valkyrie success, and in the same year Ellen Gulbranson auditioned in Bayreuth.
When the Bayreuth Festival performed the Ring in 1896, Ellen Gulbranson alternated as Brünnhilde with the famous Lilli Lehman. In the years 1897-1914 she was alone in singing this role at the festival. She was also highly praised for her Kundry in Parsifal.
Her time in Bayreuth ended abruptly when the First World War broke out in 1914. By the time they started again, Gulbranson had withdrawn.
In the fall of 1896 she sang Grieg and Wagner on a concert tour in Germany and Austria, including all three Brünnhilde roles, first in Munich and then Berlin. She was at the Berlin Opera 1899-1900 and sang Brünnhilde at Covent Garden in London 1900.

Ellen Gulbranson made few recordings. Her voice is characterized as dark, full and soft.
Ellen Gulbranson received the King's Merit Medal in gold in 1911, and she received several foreign awards. Among her students were Borghild Langaard, Kaja Eide Norena, and Fanny Elsta. After her career ended, she continued to follow the music scene in recent years from the apartment in Kirkeveien in Oslo. She is buried at Vestre Gravlund in Oslo.