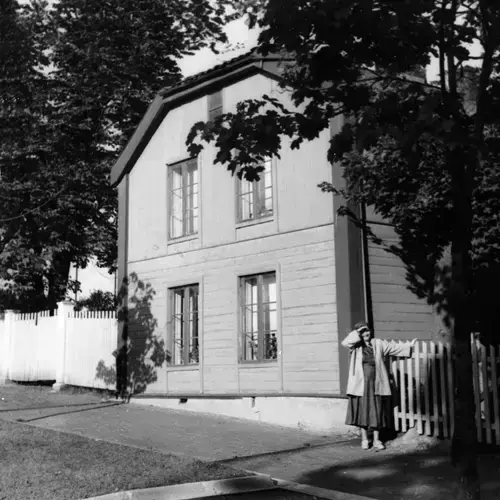 After Ole Mikkelsen's death, the widow and her son sold the property to Martin Oustad, who had gone to gunsmith's teaching at Flagstad. However, Oustad chose to use his mechanical insight in other areas, first as a bicycle operator, later as an operator and dealer of cars. Oustad's business soon grew out of Strandstusmia.

In 1915 he sold the property to the Electro-mechanical Bureau A.S. This company did not own the property for long. At the turn of the year 1917/18 the property was sold to the smith Lars Nordrum, on terms that "...Within 10 years from 15 Decbr. 1917, no repair or business of automobiles or business of such accessories shall be carried on the property."
The Nordrum family was seated with the property. After 40 years, in 1958, however, it was transferred to Per Armann Troller by a changeover joint after Eline and Lars Nordrum. The Trollers didn't buy the property to move there themselves. He wanted to build a new, large office and business building on the site.

However, the plans met with resistance. Troller therefore leased the buildings and land to a company that engaged in the sale, repair and dismantling of cars. This activity did not fit, neither for the development on the site nor the area around it. Both the fire department, the building council and the police objected. In practice, however, the company was allowed to continue, at least with the sales activities. In 1966, a new car company was even allowed to set up an exhibition hall for cars on the site.
During this period there was also a zoning plan that presumed that Grønnegata should be extended far up in the garden, and that the plot on which Strandstua is located, among other things, should be made available for the construction of the "Work Center for the Hamar congregation". At the end of the 1960s, however, there was a growing public opinion, both against the use of the property and the planned redistribution of land. It was talked about that Strandstuen was Hamar's oldest house, and that the city should pay homage to opera singer Kirsten Flagstad, who was born and partly raised in the house. Conservator Per Martin Tvengsberg argued strongly that the house had to be preserved on site.
In 1971, Per A. Troller offered the municipality of Hamar to purchase the facility, which was done. The farmhouse was first used as a dwelling, the visual artist Knut Trondsen lived on the second floor, and the author Karin Sveen on the first floor. Eventually, the Kirsten Flagstad Memorial Collection found the entire building at its disposal. The memorial collection was opened to the public in 1985.

In 1999, Kirsten Flagstad's Memorial Collection was handed over to the Hedmark Museum. The Kirsten Flagstad Museum is today one of several museums in the consolidated museum unit Anno Museum.